Odisha FC and East Bengal FC face similar challenges in pursuit of consistency
Odisha FC will host East Bengal FC at the Kalinga Stadium in Bhubaneswar on Saturday, in Matchweek 14 of the Hero Indian Super League (ISL).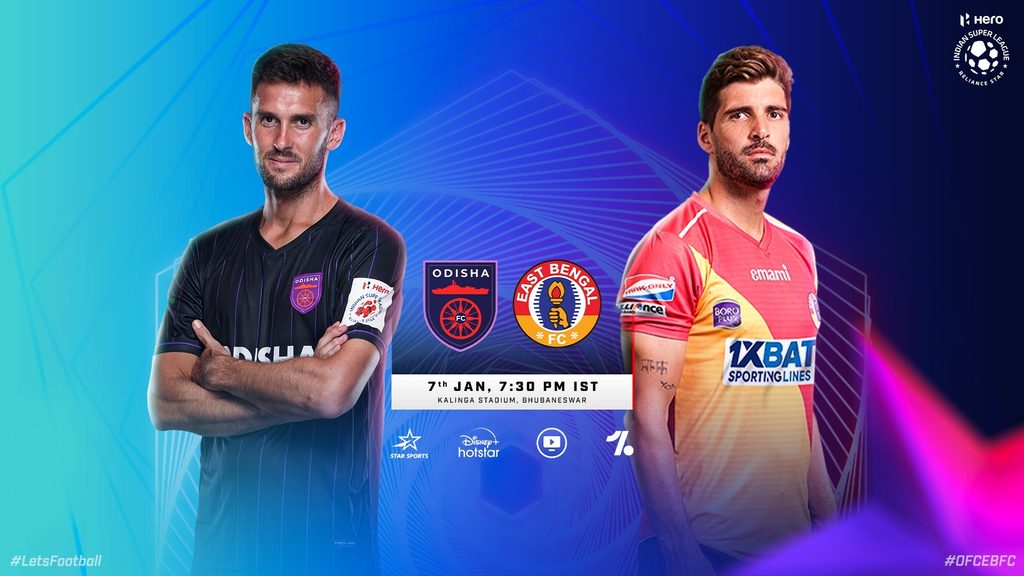 Odisha FC will host East Bengal FC at the Kalinga Stadium in Bhubaneswar on Saturday, in Matchweek 14 of the Hero Indian Super League (ISL). Odisha FC sit in sixth place on the table, seven points ahead of East Bengal FC in eighth, but have been presented yet another chance to solidify their playoffs charge after FC Goa went down to Hyderabad FC on Thursday.

Odisha FC impressed in patches against Mumbai City FC last week but ultimately lost 4-2, in what turned out to be their third loss in four games. In that period, Odisha FC have picked up only a point, but FC Goa's own up-and-down form means that the two teams are still level on 19 points at the lower end of the top six.

Odisha FC have been tested on both ends of the pitch, with their defence conceding eight goals in the last four games, while the goals against Mumbai City FC were their first ones in that period. The big positives have been the performances of Diego Mauricio and Nandhakumar Sekar. The former has scored five goals and registered three assists this season, and produced one of the moments of the season with his second goal last week, while the latter has contributed to four goals.
ℹ️ Talking points from Round 2⃣ against East Bengal FC have been covered in our match preview ⤵️🟣⚫️#OdishaFC #AmaTeamAmaGame #TheEasternDragons #HeroISL #OFCEBFC

— Odisha FC (@OdishaFC) January 6, 2023

Odisha FC head coach Josep Gombau was quite upbeat about his team's chances to win the game against East Bengal FC in the pre-match press conference. "We know that this is an important game. We know that these three points means a lot for us, and this is the way that we approach the week," he said

East Bengal FC got back to winning ways after suffering three losses in a row with a 2-1 victory over Bengaluru FC in their last game. East Bengal FC have one of the top three goalscorers in the ISL, as things stand. Cleiton Silva has scored seven of their 13 goals, and head coach Stephen Constantine will know that his Brazilian forward needs support from the other players in the squad to climb up the table - the recent forms of Odisha FC and FC Goa have meant that East Bengal FC could still make a late charge for the playoffs.

But it's not just up front that the side has conceded. East Bengal FC have also conceded 20 goals this season. Constantine said he was not too concerned about this stat when speaking in the pre-match press conference.
The #FridayFeeling heading into our 1️⃣st fixture this year! 🤩#JoyEastBengal #OFCEBFC #HeroISL #IndianFootball #আমাগোমশাল #EastBengalFC #LetsFootball pic.twitter.com/8uBKfRVR90

— East Bengal FC (@eastbengal_fc) January 6, 2023

"Honestly, if I win 2-1, I don't care. If I lose 3-0, then yeah, I care. We don't deliberately try to concede goals. This is the nature of the game. I would be more concerned if we haven't won four games. If that makes sense," he said.
Odisha FC have only lost once to East Bengal FC in their five ISL meetings. Odisha FC have come out on top every other time. They beat East Bengal FC 4-2 when the two sides met each other earlier in the season on November 18. (Hero ISL standings)