Its a good start for us in the semi-final: Bengaluru FC head coach Simon Grayson
Bengaluru FC head coach Simon Grayson reiterated that they didn't achieve anything and expect a tough game in the second leg as Mumbai City FC lost 0-1 to Bengaluru FC in the first leg of the Hero Indian Super League (ISL) 2022-23 at the Mumbai Football Arena, in Mumbai on Tuesday.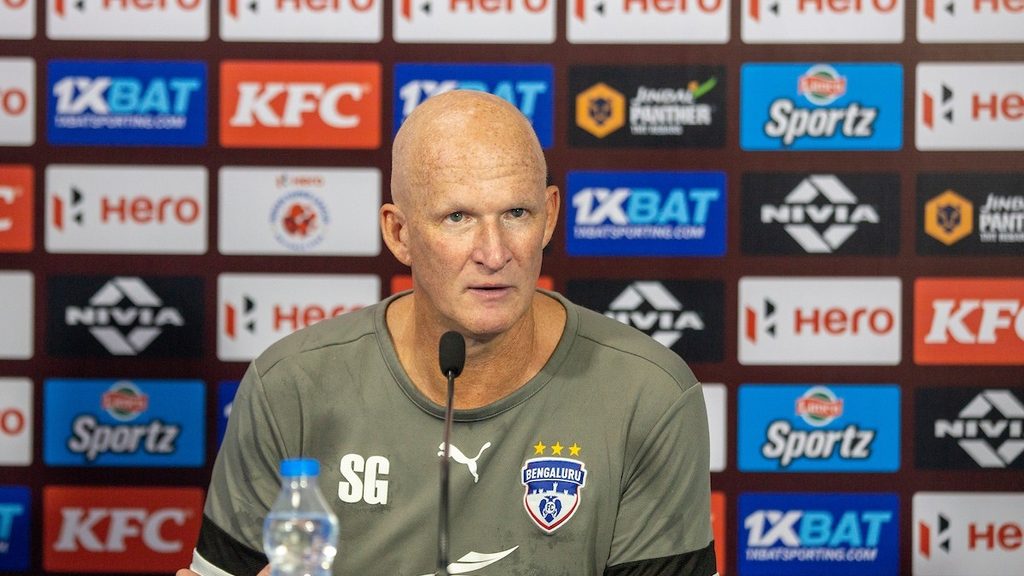 Bengaluru FC head coach Simon Grayson reiterated that his side haven't achieved anything and expects a tough game in the second leg after Mumbai City FC lost 0-1 to Bengaluru FC in the first leg of the Hero Indian Super League (ISL) 2022-23 at the Mumbai Football Arena, in Mumbai on Tuesday.

With this win, Grayson and his Bengaluru FC side continue their red-hot form in 2023 as they extend their winning streak to 10 games. Whereas, League Shield winners Mumbai City FC are yet to win a match after their 5-2 win over FC Goa, where they secured the shield. Sunil Chhetri scored the winner, handing an important 1-0 win for the Blues going into the two-legged Semi-final.

Grayson was pleased that his side scored a goal in the first leg but warned them about getting complacent.
We're coming home with an advantage, Bengaluru. See you Sunday! #WeAreBFC #MCFCBFC ⚔️ #NothingLikeIt pic.twitter.com/8EukKuAOUc

— Bengaluru FC (@bengalurufc) March 7, 2023

"I think you got to give Mumbai City FC the credit because we knew that they would come out in the first 10, 15 and 20 minutes. We had to make sure that we defended well and make sure that when you're defending, defend well with passion and desire and when you get the ball, you have to keep it and be a little bit more calm and relaxed. We gave away the possession too easily in the first half. It allowed Mumbai City FC to attack more than we wanted," Grayson said in the post-match press conference.

"So that was the message at half time. Keep defending as individuals and work as a team. When we get the ball back, make sure that we keep it better and we asked more questions and we've got the goal and we looked threatening after the goal, certainly where we could have got the second or potentially a third. It's a good start for us having the 1-0 lead, but we haven't achieved anything yet," he reminded.

Chhetri has not had the best of seasons, going by his lofty standards. The Indian striker has scored only one goal in the first 18 matches for BFC this season, but has certainly risen-up to the occasion when it mattered the most. In the last four matches, the 38-year-old has scored three goals.
Grayson shared the thought process behind utilizing Chhetri as a substitute in this fixture.
"Chhetri doesn't need too many messages on how to play, because he has played for many, many years and he's been very hungry and very good over the last few weeks, obviously he has been training really well and I contemplate starting him because of how he's played (recently) and he knows what 75 minutes in the playoffs looks like, because he's played so many games," he said.

"And bringing Sivasakthi later on would give us a little bit more pace on the counter attack but again, Chhetri comes on and does what he does. And somebody his size and to score two headed goals against Mumbai City FC in the last three, four weeks tells you he's got a lot of heart and desire," he commented.

The three-at-the-back formation at the backline certainly worked wonders for Grayson. The Blues have become a difficult side to beat during their 10-match unbeaten run. They put 28 crosses and fired 17 shots against Bengaluru FC, but couldn't find a goal. Apart from the backline, Bengaluru FC's midfielders and strikers too played their part in defending and got a valuable 1-0 victory.
Grayson explained the philosophy behind the tight defending and hoped to replicate the same on Sunday as well.
"You've got to defend well against a team like Mumbai City FC, they have got the most goals in the ISL league stage that shows you what they are capable of doing. They've got players that can make things happen out of nothing. We have spent a lot of time on the training pitch since the preseason, working on defensive shape, Not just as defenders but also the midfield players and the strikers as well and we got some leaders with good traits and good qualities and (they knew that) we shouldn't give up opportunities to the opposition too easily. We're happy that we've got a clean sheet and hopefully, we can do the same again on Sunday night," he concluded.