Hyderabad FC will offer us different challenges: Jamshedpur FC head coach Owen Coyle
Jamshedpur FC head coach Owen Coyle expects a tough match when they take on table toppers Hyderabad FC in the Hero Indian Super League (ISL) on Tuesday.

Jamshedpur FC head coach Owen Coyle expects a tough match when they take on table toppers Hyderabad FC in the Hero Indian Super League (ISL) on Tuesday.
The two teams have matters in their own hands when it comes to fighting for the top spot in the Hero ISL this season. In fact Jamshedpur FC can afford to draw against Hyderabad FC and still finish top if they win their remaining two matches.
Coyle though said his team are taking it one game at a time as they can ill afford to look beyond the threats that Hyderabad FC can pose to his team.
The Scottish head coach addressed the media ahead of the big match.
Here are the excerpts from his press conference:
What will be the team's approach for the crucial upcoming game against Hyderabad FC?
We are only thinking about facing Hyderabad FC. Like I have said before, we really need to focus on one game at a time because if you look too far ahead then you get punched in the nose in the sport of football. So we are going to be playing fantastic opponents, an outstanding team with great individual talents along with a terrific coach. So, we know it's a tough game and a very competitive one as it always is in all the games. But equally we have to make sure we are fresh and ready to try and win a tough game. There's been many challenges in our way but we don't complain about it and we have to step up with a smile on our faces to try and win those tough upcoming games, like we will have to do against Hyderabad.
How does it feel to be a head coach of a team in contention for a top spot in this tight race?
We are in this position of the league through merit. We have worked ever so hard and where we are at the moment is because of the points we've earned to be there. But all this counts for nothing, we've got points but we still need one more point to be in the top four spots but equally we want to push to be as high up the table as we can. How we can do that, is by winning these tough games as every game in the Hero ISL. It is a different challenge for many different reasons and this game presents itself as a really tough game as we're facing a quality side with good players. But they also know that Jamshedpur FC is a good side by the intensity we play at, the hard work we put in and the quality that we have. So we have two very positively attack-minded teams trying to win a tough game.
What are your thoughts on young Indian players in your team?
As I said before, we always expect the foreign players to deliver very good performances which is the reason they are brought to the club but myself as a coach and my staff take tremendous satisfaction in the performances of the young Indian players who have improved to such a level and the consistency shown in every game through their performances. So, as I mentioned before, I have worked with Dinliana when we were in Chennaiyin FC and I saw something in him using which he has excelled. Ricky as a full-back as well, our young wingers - Ritwik, Boris, Komal; Jitendra and Mobashir in the middle of the park. Mobashir has stepped in after missing out on the first half of the season due to injury and now he is upto speed. Ishan Pandita comes on and becomes an instant goal threat to the opposition every time he steps up on the field. So, these young Indian lads have excelled and as a coach that's exactly what you want to see, the Indian players improve and grow. But they do this within the team's framework which is our strength. Our strength at Jamshedpur FC is as a group, that is why when we do have players missing out on games, we have other lads who are always ready to step in.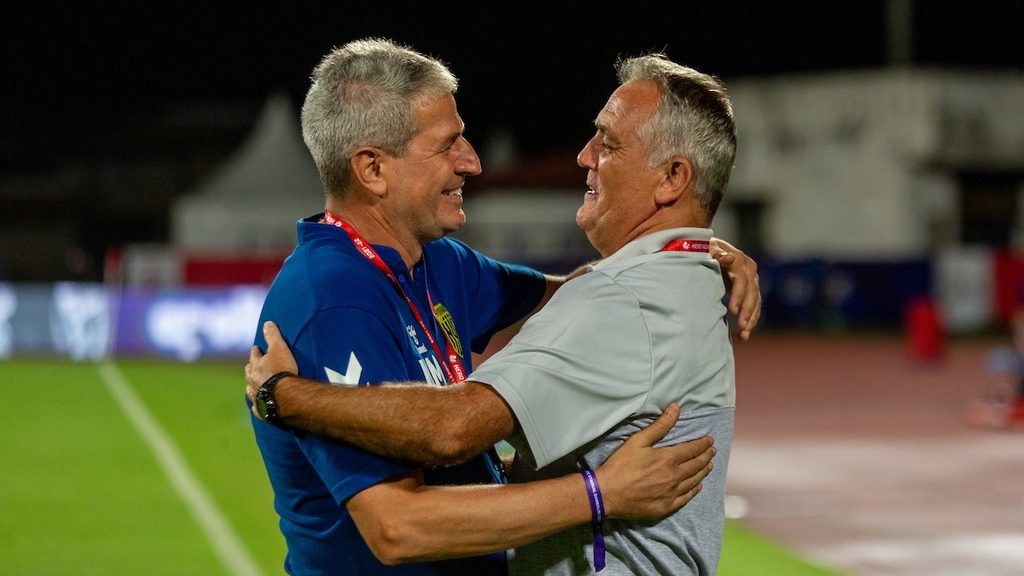 Seiminlen Doungel came into the team and scored in the last match. How pleased are you with the squad depth?
It was great to have Len (Doungel) score a goal on a personal level because he is such a great lad with everything he has got and that is the reason why we brought him to the club from FC Goa as he wasn't getting his required game time. I have seen the qualities he has and Len himself has been carrying an injury for the last six weeks but he has such a big heart and desire to play for the team and is always prepared to say that he is ready to play. I know he's been playing through the pain barrier and it's not a serious injury but he does feel a little pain. But he is such a great lad with a big heart and is an absolute team player. There are a number of lads in our team who have done the same in difficult situations and are always prepared to say that they are ready to give everything they have got which is the kind of team spirit we have got.
With Greg Stewart missing, how do you plan to adapt your strategy?
We do have options in our team which is a good thing, and it'll be naive on my end to give away our line-up to the opposition but what we know is that we'll be very positive. As I said before, Jordan is coming back to his 100% and just needs some more training sessions but he showed his quality and was outstanding in the previous game and we will know when we have a fully fit Jordan Murray on our side because then he'll be one of the top strikers of the league. Daniel Chima has been outstanding ever since he has come into our squad, so it is great to see that. Even in our previous game, we saw the kind of punishment he takes on the pitch and he appealed for a penalty in the first ten minutes of the game when their goalkeeper tackled him from the back. I think Daniel gets unfair treatment because he is such a strong lad who gets hit in the back very often and is also not awarded a lot of fouls after getting challenged from behind. But he has a wonderful character, leads the team well and takes the ball up the pitch really well. We have Ishan Pandita in the same position as well who can start games and come in to score goals. So, in that terms, we still have big goal threats which is what we'll look to bring in a very important game.
Hyderabad FC head coach Manuel Marquez had said that the first half they played against Jamshedpur FC in the reverse fixture was their worst. What do you have to say about that?
It won't have any bearing on our upcoming game. Sometimes such instances happen and we've had performances like that where we have a good half where we were at our maximum. We did it against Mumbai City FC where we were outstanding in the first half, blooming in our performance but then in the second half they came back in the game and we did not perform like we did in the first half. But we still had the heart, the desire to go and win the game, so whatever happened in the last game will have no bearing on this game. We know he is a very clever coach who has shown his work with the players he has and by the quality in his team. I look forward to seeing him, plus he knows that in the duration of the game, both sides will do everything in their power to win a tough game. So, what went down in the previous clash will have no bearing on this game and it is going to be two very exciting and attack minded teams trying to win a top of the table clash.