Chennaiyin FC will be a very competitive team: FC Goa's Manolo Marquez
The Gaurs face a tough challenge away against Chennaiyin FC in the ISL on Sunday.

FC Goa head coach Manolo Marquez is expecting a tough game as they face Chennaiyin FC in the Indian Super League (ISL) at Jawaharlal Nehru Stadium in Chennai on Sunday.
The Gaurs have had a flying start in the league, winning three of their opening four matches and drawing the other game. Chennaiyin FC, on the other hand, suffered a defeat in their first three fixtures but bounced back with back-to-back wins.
Marquez believes the upcoming game against the Marina Machans will be highly competitive since Chennaiyin FC have bounced back quite well after the initial slump and are coming into this game with two successive wins.

"Sunday's match will be a very difficult (game)," Marquez said in the pre-match press conference.
"(It is a fact that) we have to play against all the teams away and at home. (But) the (main) thing is how your team is and how is the other team when you have to play against them. And now I think that it was better to play against Chennaiyin FC before the break (last month) because they were in the beginning. And they (Chennaiyin FC) have, for me, one of the best coaches in the history of ISL," he stated.
Another action-packed thriller incoming 🔥🔜#CFCFCG pic.twitter.com/GoISuqDIg3

— FC Goa (@FCGoaOfficial) November 4, 2023
The Spaniard further discussed the influence of Owen Coyle in leading Chennaiyin FC to make a comeback in the league after three defeats in their opening three matches. Marquez believes that his side needs to stay focused to secure a positive result in this match.

"He (Owen Coyle) demands a lot from the players. And finally, his character is the character of the team. And this is the reason that now Chennaiyin FC, I think, will be a very competitive team. And we have to be very focused. But, again, we will have our options to win the game if we play a good game," he opined.
The attacking pair, Noah Sadaoui and Brandon Fernandes, sustained injuries earlier in Matchweek 4. Sadaoui's injury occurred before the game against East Bengal FC, while Fernandes got injured during the match. The FC Goa head coach shared insights on the recovery progress of these two-star players from his team.

"I think that they cannot play 90 minutes. And to play with two players in these conditions is dangerous, at least in the starters. But let's see. Noah is indeed better than we were (initially) thinking. I think that I told that he'll be out for Bengaluru FC and Chennaiyin FC. But his recovery is very good. He is a strong guy. And Brandon, with the dislocation in the elbow, I think it's about (how he recovers)," shared Marquez.
The two sides previously met in the quarter-finals of the Durand Cup this season, where FC Goa secured a comfortable 4-1 victory over Chennaiyin FC despite falling behind early in the game. However, Marquez believes that was a preseason match, with both teams missing some of their crucial players, and he expects the upcoming game to be completely different

"The 4-1 (scoreline) was not the reality of that game. The reality is that we played very well in the first half, even though they scored in the third or fourth minute in a corner. But we played very well in the first half. We turned the score, But it was not a real game. Even our team had some players out. It's pre-season. It was a quarter-final, but it's still pre-season," he commented.

I have a very good team in front of me: Arshdeep Singh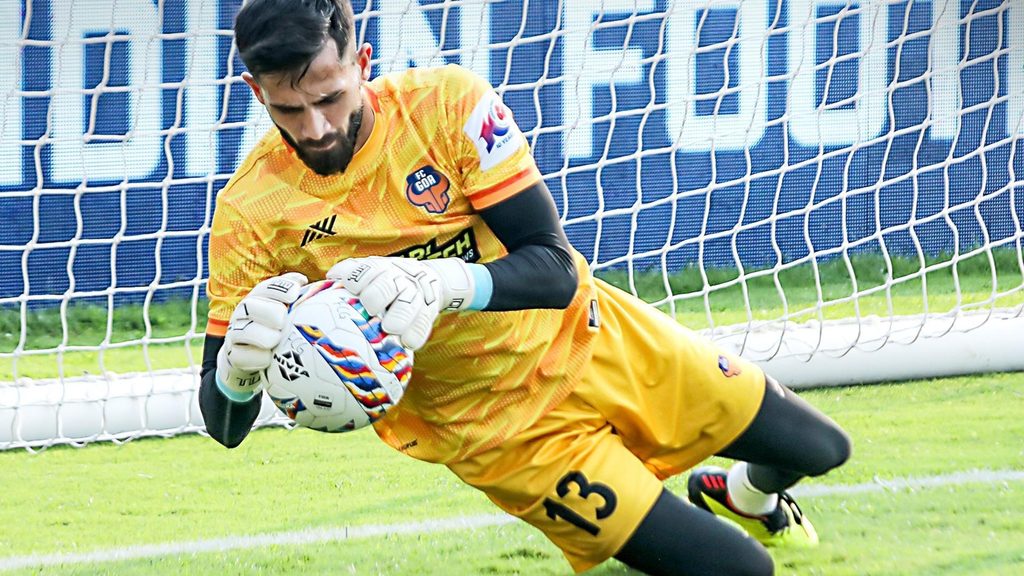 Goalkeeper Arshdeep Singh joined Marquez in the pre-match press conference. The 26-year-old believes that Chennaiyin FC would pose a significant threat, given their current run of form.

"I think they are a very strong team. They are in a good rhythm. So we are going to go all out. I think we have to be very focused because no match is easy," he said.

Singh has started in all the matches ahead of his counterpart, Dheeraj Singh, who was a regular under Carlos Pena last season. He has performed well between the sticks for the Gaurs, accumulating six saves with a save percentage of 66%. The custodian discusses the competition for the goalkeeping position and describes how it benefits both of them.

"I think it's a very healthy competition. All of us push each other in every training session to be the best. That's how it should be between every goalkeeper and all the teams. We are all giving our best and trying our best," Singh stated.

FC Goa have had a solid start to their campaign. In the four matches they've played so far, they've kept two clean sheets and conceded three goals in the same number of matches. Singh credits his teammates and believes there is still plenty of room for improvement in the upcoming matches.

"Many things (that I need to improve on). I think I have a very good team in front of me. So we have two clean sheets. But for me, I have to improve a lot. That's what I hope to do in the coming matches. To not make mistakes and try to keep those clean sheets," he commented.