Hero ISL 2022-23, knockouts: A detailed look at Kerala Blasters FC
Kerala Blasters FC have never won the Hero Indian Super League (ISL) but have come agonisingly close in the past. They have finished as runners-up on three occasions, losing the final in 2014, 2016, and 2021-22 seasons. In fact, their last two finals went all the way to the penalty shootout where it ended in heartbreak for the fans.

Kerala Blasters FC have never won the Hero Indian Super League (ISL) but have come agonisingly close in the past. They have finished as runners-up on three occasions, losing the final in 2014, 2016, and 2021-22 seasons. In fact, their last two finals went all the way to the penalty shootout where it ended in heartbreak for the fans.
The runners-up of the 2021-22 season are determined to go one step further this season and clinch their maiden Hero ISL trophy. But, in order to claim the coveted trophy, they must conquer three more opponents.
Ivan Vukomanovic's side finished fifth in the ISL 2022-23 standings and will face their southern rivals Bengaluru FC in the playoff knockout game at the Sree Kanteerava Stadium on Friday. Kerala Blasters FC have recently struggled in away games, losing their last five matches on the road and scoring just twice but this time around they will be keen to turn their fortunes.
Key stats in Hero ISL 2022-23
Matches: 20, Wins: 10, Draw: 1, Losses: 9, Goals Scored: 28, Goals Conceded: 28, Points: 31
Tactical Profile
Vukomanovic prefers to maintain a balanced approach between attack and defence in his general strategy, which has led him to opt for a 4-4-2 formation ever since joining Kerala Blasters FC in the Hero ISL. The Serbian tactician has used the 4-4-2 formation in 19 out of 20 games this season.
However, the personnel were altered as a result of injuries, cards, and poor form. The likes of Prabhsukhan Singh Gill, Ruivah Hormipam, Jeakson Singh, Adrian Luna, and Dimitrios Diamantakos started most of the games. Marko Leskovic was also a regular starter up until his injury. The Blasters' eight-game unbeaten streak was largely due to the fact that they were playing with the same line-up at the time.
Paul Masefield's analysis: They use a 4-4-2 formation and it's rigid. They know actually what they are doing and as a team, earlier on in the season, particularly at home, they managed to keep everything really, really tight.
Strengths
Contributions of Indian wide players: Vukomanovic has a particular fondness for exploiting his opponents' vulnerabilities through the use of wide players. Rahul KP and Sahal Abdul Samad have been executing this game plan to perfection under their coach's guidance. Possessing impressive footwork and agility, they are equally adept at racing down the flanks to deliver a pinpoint cross or cutting inside to create chances. In case of any backup requirements, Nihal Sudeesh and Bryce Miranda have also proven themselves as reliable options, capable of supplying their strikers with quality balls.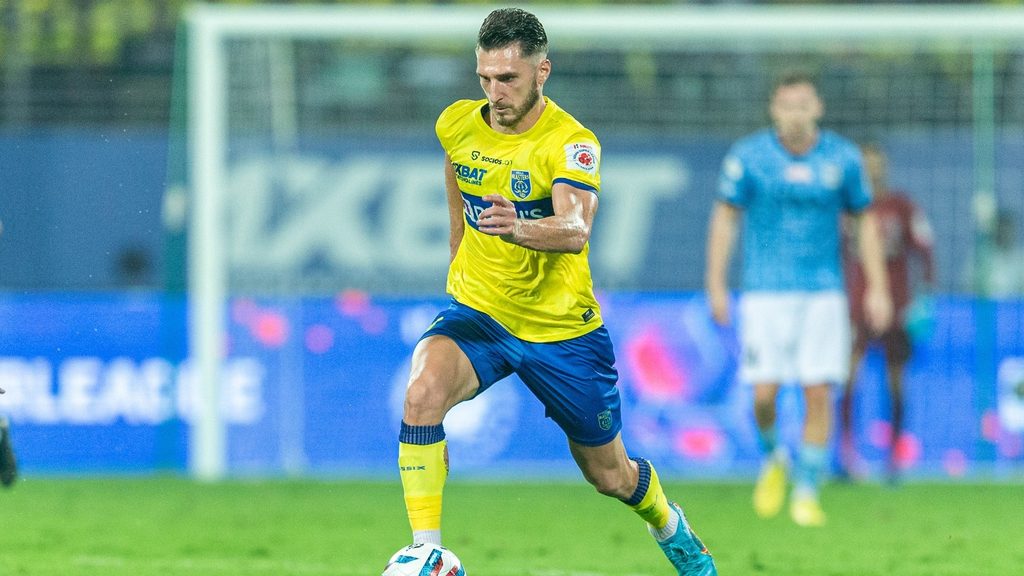 Clinical Diamantakos: Dimitrios Diamantakos is one of the most notable foreign signings in the Hero ISL this season, tasked with filling the huge shoes of Jorge Pereyra Diaz, who joined MCFC. Although he struggled to score in the first four games, the Greek forward has since found his form, scoring in five consecutive matches. He became only the second KBFC player to score ten or more goals for the club in a single Hero ISL season. Currently, he has contributed ten goals and three assists, only three behind Ogbeche's record of 16 set in the 2019-20 season.
Erik Paartalu's analysis: Diamantakos needs to be fed the ball inside the box, he will cause problems and he has been a great goalscorer for them this season.
Weaknesses
Defensive weakness without Leskovic and Sandeep: After a challenging start to the current campaign, the Kerala Blasters started showing signs of last season's success in the middle of the season, keeping clean sheets and making it difficult for the opposition to break through, both in open play and on set pieces.
Marko Leskovic and Sandeep Singh have been crucial figures in maintaining this stern defence. But injuries to both Leskovic and Sandeep during a pivotal period of the season significantly hampered KBFC. Their absence cut short their winning momentum and the Blasters' defence started fumbling without them.
Although Leskovic has returned, Sandeep is ruled out of the fixture against Bengaluru FC.
Poor Away Run: Kerala Blasters FC are enduring one of their worst away runs this season. They have failed to replicate their home form in the away games. The Blasters have lost six of their 10 away games, securing only ten points.
Phil Brown's analysis: Their away form is sadly lacking belief and that's probably one of the reasons they may struggle to beat Bengaluru FC at the Sree Kanteerava stadium, something they have never managed in Hero ISL history. They have to find some inner strength and that has to come from the head coach to show how they can compete at the same level home and away to get through to the semis.
Bad defensive transition: This season Kerala Blasters FC has been vulnerable in defence. There are primarily two reasons for this. Firstly, the fullbacks' positioning during the previous season was excellent in preventing the threat of counter-attacks, but they have struggled with that this season. The defensive line is high and not compact enough, and the full-backs are out of position and slow to react, unable to stop any long balls behind the defence. Secondly, Jeakson and Puitea last season did an excellent job of defending the back four, given that they are both defensive midfielders. They would usually win the initial ball and maintain a defensive shape at the back.
Erik Paartalu's analysis: The loss of Puitea hasn't been replaced in my opinion so a lot rests on Jeakson to 'play and stay'.
Player to watch out for in the knockouts: Adrian Luna
Adrian Luna is the architect of the Kerala Blasters FC attack. His ability to create chances, score goals, and provide assists on a regular basis makes him a game-changer. The Uruguayan midfielder has four goals and six assists already to his name. He is also KBFC's go-to guy on set pieces. Vukomanovic has built his side around him and given a free role to excel the ball in the final third. Luna needs one more to equal a club record he set in the 2021-22 season with 7 assists.
His versatility is invaluable to the team. He can operate as a striker, winger, or even a central midfielder.
Paul Masefield's analysis: Luna is a brilliant player. His work rate and work ethic is second to none. He is an absolutely fantastic player that really does give them a pause on a spark and I'm expecting big things from him in the playoffs.
Erik Paartalu's analysis: In most games, Luna is able to dictate the play, he doesn't keep to one position which can be very hard to mark but also can disjoint the Blasters' shape in transition moments. I think he best operates as a false nine or in the number ten role but with Vukomanovic rarely changing that 4-4-2 shape I think he will start on the left of a four-man midfield.
Records and Unique Stats:
Kerala Blasters FC qualified for the playoffs in two successive seasons for the first time in their Hero ISL history.

They have won seven matches at home

, the most they have managed in a single Hero ISL season.

This is only the second time KBFC have won 10 matches in a single Hero ISL season. T

hey also won 10 matches this season.

Adrian Luna became the only KBFC player to have 10 or more goals and assists in the Hero ISL (10 G + 13 A).

Dimitrios Diamantakos has 13 goal contributions this season, only 3 behind Ogbeche's record of 16 set in 2019-20.
Predicted Starting XI (4-4-2): Prabhsukhan Singh Gill (GK), Nishu Kumar, Hormipam Ruivah, Marko Leskovic, Jessel Carneiro (C), Rahul KP, Jeakson Singh, Adrian Luna, Sahal Abdul Samad, Dimitrios Diamantakos, Apostolos Giannou