Going local: How Indian players have been at the heart of Hyderabad FC and ATK Mohun Bagan's success
From a larger perspective, though, it just illustrates that a strong Indian core is paramount to success in the Hero ISL. And, as things stand, ATK Mohun Bagan and Hyderabad FC seem to have embraced it more than any other team in the country.  

Over the years, the Hero Indian Super League (ISL) has seen an enormous number of foreign players grace its shores. At times, these footballers have found it tough to adapt to newer surroundings but there can be no denying that their addition has helped the league develop, and has accorded their Indian counterparts the chance to enhance their skillset.
Quite often, it has (rightly or wrongly) been assumed that the Hero ISL outfit with the best foreign players emerges victorious in a league that is riddled with twists and turns. Not just because they have greater experience and pedigree, but also because they are willing to take up responsibility and shepherd their sides to promised land.
More recently, though, with the Hero ISL deciding to cut down on the number of foreigners in each playing eleven, the stature of the Indian contingent has grown considerably.
When the competition began in 2014, the number of overseas footballers in each playing eleven could have been as high as six. A few years later, that came down to five out of eleven, with the 2021-22 iteration being the first time the Hero ISL has seen only four foreign recruits (at the most) in the playing eleven.
Thus, it is fair to say that there is increased importance on what the Indian players bring to the fore. And, more importantly, a need to mould the team's philosophy and approach based on what suits their complement of Indian footballers best.
In the past couple of seasons, not many teams have gotten that formula as correct as Hyderabad FC. The club, whose debut campaign (in 2019-20) ended in utter disappointment, have been steadfast and have maintained a strong Indian core throughout.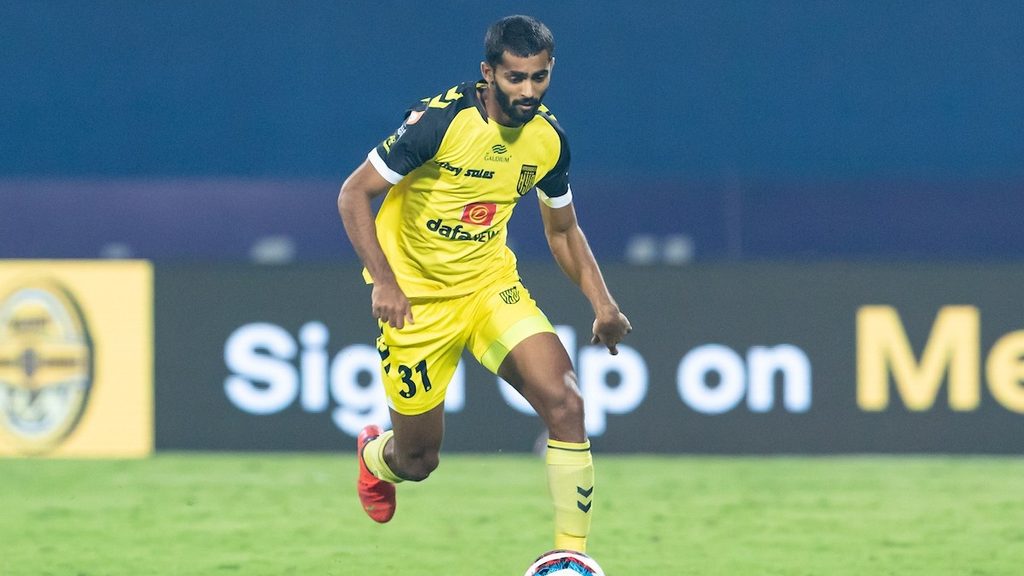 Even in 2020-21, there were glimpses that their determination was paying dividends. However, when push came to shove, they were ruing a slight lack of inexperience. This time, though, all of that has been corrected and if anything, this continuity has allowed them to surge into the upper echelons of the points table.
During the league stages, Indian players provided as many as 20 assists for Hyderabad FC – a tally that no other outfit in the Hero ISL could better. The 20 assists were shared between 10 different players – again, highlighting how Hyderabad FC have created an excellent group of Indian footballers.
The limelight, rather understandably, has been hogged by Bartholomew Ogbeche and his goalscoring exploits. Considering he has made the net bulge 17 times, there is no shame in that happening too. But with so many Indians standing up to be counted, Hyderabad FC certainly have something going in their favour.
HFC, though, haven't been alone in optimising the Indian talents at their disposal. As fate would have it, the other team who have been just as good at doing so are the club Hyderabad FC will be encountering in the semi-final – ATK Mohun Bagan.
For the Mariners, much of the pre-season chatter was around how they had acquired Hugo Boumous and how he would form an irresistible partnership with Roy Krishna – a striker who has scored for fun during his time in India. In the initial stages of the season, that came to fruition as well, with both dovetailing as if they were always meant to play together.
Since then, however, they have hit a bit of a roadblock. In fact, much of their foreign stars have found it tough to impose themselves on contests. David Williams has scored a few crucial goals but has not been as prolific as past seasons.
Joni Kauko has unlocked several defences and has perhaps been their standout performer. But the likes of Carl McHugh and Tiri have been slightly more circumspect than usual, meaning that the onus, for the first time in a while, has fallen on their Indian contingent.
So far, they have made a pretty decent fist of it. Liston Colaco, in particular, has cast himself as one of the best players in the league (irrespective of nationalities). He is, at the time of writing, the highest goalscorer for ATK Mohun Bagan this season and the highest scoring Indian in the Hero ISL.
Manvir Singh hasn't been shabby either. There have been a couple of finishing howlers but his work rate, coupled with an increased end product, has sustained the Mariners beautifully.
Elsewhere, too, ATK Mohun Bagan have found heroes. Their Indian players have not been able to provide 20 assists as HFC have done, but a tally of 10 assists isn't bad.
With Kauko pulling the strings in midfield, the Mariners' Indian footballers have been relied upon to supply goals. And, they have come up with 19 of those – only one behind the all-time record Bengaluru FC set in 2018-19. These 29 Indian goal contributions, by the way, is the highest any team has managed this season in the Hero ISL.
Thus, this semi-final, which should be as keenly-contested as their previous encounters, could be decided by which complement of Indian players rises to the occasion. That, considering the likes of Boumous (possibly), Kauko, Krishna, Williams and Javier Siverio, Joao Victor, Joel Chianese and Ogbeche will grace the pitch, is an achievement in itself.
From a larger perspective, though, it just illustrates that a strong Indian core is paramount to success in the Hero ISL. And, as things stand, ATK Mohun Bagan and Hyderabad FC seem to have embraced it more than any other team in the country.