How ATK Mohun Bagan turned Hyderabad FC's greatest strength into their biggest weakness
ATK Mohun Bagan must be applauded for the bravery they showcased - not just by attacking incessantly, but also by directly targeting Hyderabad FC's biggest strength and turning it into their biggest weakness on the night.

Before February 8, 2022, Hyderabad FC were trampling every opposition in their wake in the Hero Indian Super League (ISL). The table-toppers' effervescent attacking style had taken aback every club in the land and they had deservedly propelled themselves to the perch of the table.
A lot of their success was built on the variety of goals they scored. Bartholomew Ogbeche, who has already made the net bulge on 14 occasions, had been a major contributor. The more refreshing avenue, though, was the adventure their full-backs (Akash Mishra and Asish Rai) were regularly displaying.
In many ways, their full-backs' propensity to venture higher up the field and create situations of numerical superiority was Hyderabad FC's biggest strength. Not because they had someone of the ilk of Ogbeche to feast on crosses, but also because this trait of running up and down the pitch isn't very ubiquitous.
Against ATK Mohun Bagan too, many expected Hyderabad FC to continue in a similar vein and dominate proceedings. They enjoyed quite a bit of possession but were never really able to get their full-backs into the game – something that stuck out as the match progressed. And, rather alarmingly, became their greatest weakness.
Match Report: Liston Colaco, Manvir Singh on target as ATK Mohun Bagan beat leaders Hyderabad FC
For much of the first half, both teams sparred against each other. Both had decent spells of possession, although none was able to create a truckload of chances.
After the break, however, things changed a little. Hyderabad FC showed an inclination to attack. ATK Mohun Bagan could've easily retreated into their shells. Yet, they paid heed to their manager's ideals, which for those unaware, talks about attack being the best form of defence.
The first goal came about after Rai was caught high up the field. He wasn't marauding down the right flank but found himself near the half-way line. He was also Hyderabad FC's last defender, meaning that when Liston Colaco ghosted past him, HFC could only hope for the striker to miss. Colaco didn't and it cast ATK Mohun Bagan into the ascendancy.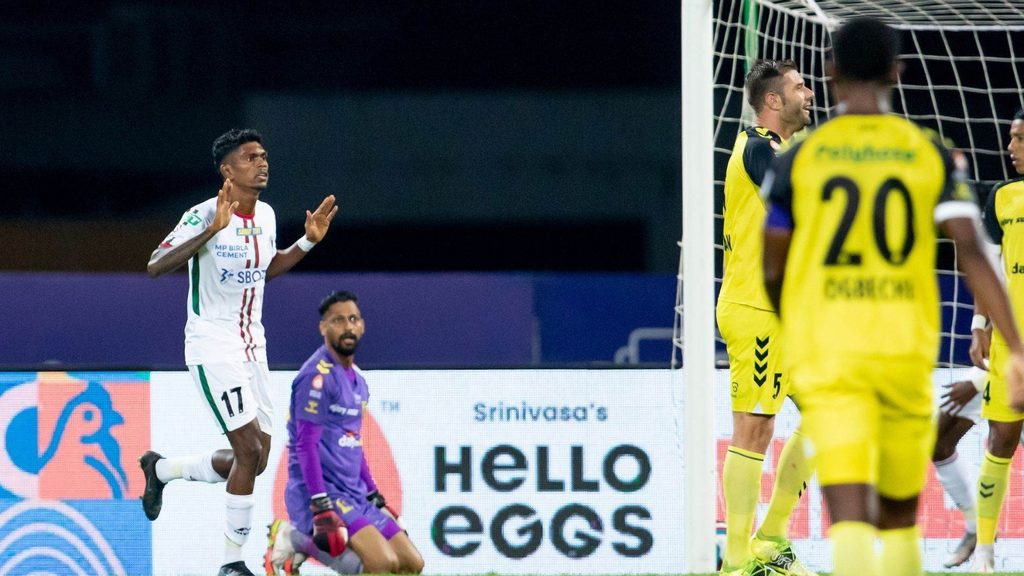 A few minutes later, the Mariners picked up possession in the inside right channel. They pinged a few passes before Joni Kauko exploited the gap that Mishra had left behind. Manvir timed his run to perfection, and galloped past Mohammad Yasir and the defensive line. The striker kept his cool, slalomed past the keeper and slotted the ball into the back of the net.
There were two more instances when the Mariners made the most of the spaces that Hyderabad FC's full-backs had vacated. Colaco benefited on both occasions but was unable to make the net bulge. That, though, was down to his wastefulness rather than HFC suddenly evolving a mechanism to not get caught out of position.
In the recent past, Hyderabad FC have distinguished themselves because of the attacking adventure each of their players displayed. Their full-backs, in particular, have been the torch-bearers of that approach.
However, as ATK Mohun Bagan showed, there is a bit of risk attached to it – a risk that can be exploited and can make Hyderabad FC question if their method is tenable.
HFC haven't become a bad team overnight and there is no guarantee that all teams will enjoy similar success against them. If anything, Hyderabad FC could come out all guns blazing in their next encounter, with Mishra and Rai running riot – much like they often do.
For now, though, it would be a travesty if the Mariners aren't applauded for the bravery they showcased - not just by attacking incessantly, but also by directly targeting Hyderabad FC's biggest strength. And, of course, by believing that attack is, at times, the best form of defence.